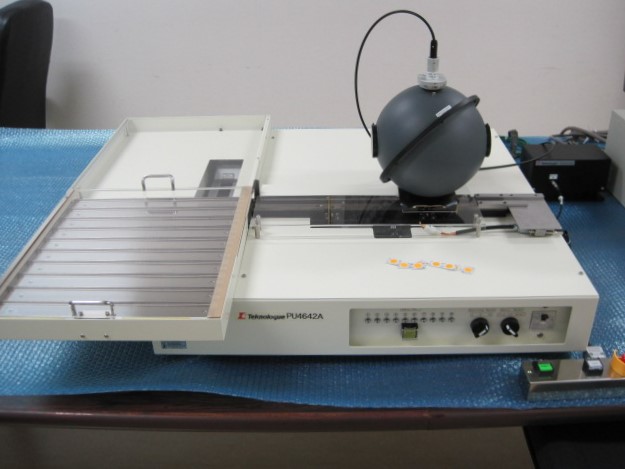 ■Since it can be adjusted manually without
using tools, it is possible to handle a wide
variety of COB type LED.
■ Supports COB type LED with a size of
10×10~35×35[mm]

(45×35mm is also available)
■High-speed and highly accurate measurement

■Automatic classification function
MAX10 classification
Highly accurate measurement
The COB manual measurement system realizes highly accurate measurement even manually.
Click here for details on measurement.
* Connection with LX47 series is possible.

Adjustable without tools
The probe card can be easily replaced manually.
In addition, the width of the transport guide can be adjusted freely, making it possible to flexibly
switch between a wide variety of products.
Basic specifications
Applicable parts

COB type LED
10×10 to 35×35[mm]

*45×35mm is also available.

Measurement stage

1 stage

Measuring contact method

Top contact

MAX10 classification

MAX10 classification

Power supply

Single-phase AC90-110 [V]  47-63 [Hz]

External dimensions
W962×H330×D880[mm]


*Not including the integrating sphere
* Equipment specifications and processing capacity vary depending on the size and shape of parts,measurement time,
number of measurement items, etc., so we will make a decision after consultation.
* The photos shown are for illustrative purposes only.
Please note that the actual color may differ due to shooting and printing.
Other products